How a Cease and Desist Letter Can Be Used to Protect Your Intellectual Property Rights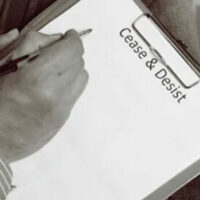 Intellectual property rights have commercial value. When another individual or another company violates your IP, it could cause tangible economic harm to your business. You must take immediate action to protect your rights. Of course, this does not mean that you will need to file a lawsuit any time you notice IP infringement.
Quite the contrary, IP violations can often be resolved at a lower level of conflict. A cease and desist letter can be an efficient, cost effective way to stop IP infringement. Here, our Boca Raton cease & desist attorneys explain how you can use this type of letter as a tool to protect your intellectual property rights.
IP Protection and Cease & Desist Letters: What You Need to Know
The Cornell Legal Information Institute describes a cease and desist as a "cautionary" letter. In other words, a cease and desist letter is an official legal warning. When drafted properly, it will tell the IP infringer how they are violating your rights and what they need to do to remedy the matter. In addition, a cease and desist letter should include a deadline for response and/or action.
By sending a cease and desist, you can be sure that the other party is aware of the fact that they are violating your rights and that they know you intend to take legal action if the infringement persists. One of the primary benefits of using a cease and desist to protect your intellectual property is that it can help to resolve the matter early and at the lowest possible level—thereby saving a lot of time and money.
Three Important Considerations Before Sending a Cease and Desist Letter
While a cease and desist is often a great way to protect your rights, you should not be careless in putting one together. There are some issues that need to be addressed before you draft and send such a letter. Here are three important questions you should ask yourself before sending a cease and desist letter:
Do you have a legally actionable basis and valid grounds for sending a cease and desist?
Is there a clear and specific result that you are trying to obtain by sending the letter?
Are you at risk of exposing yourself or your company to a potentially costly counter lawsuit?
When you are ready to send a cease and desist, it is recommended that you consult with an experienced attorney. A qualified IP lawyer will be able to help you understand your options and draft a letter designed to achieve your objectives.
Call Our Florida Intellectual Property Attorneys for Immediate Help
At Perkins Law, our Florida intellectual property lawyers are experienced, solutions focused advocates for individuals and companies. If you have questions about using a cease & desist letter to protect your IP, we are here to help. To set up a completely confidential consultation, please contact our legal team now. From our office Boca Raton, we represent clients in Florida and nationwide.