Boca Raton's ADT Files Trademark Lawsuit Against Amazon-Owned Company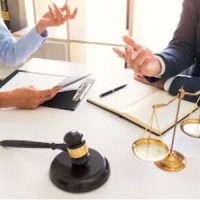 According to a report from Bloomberg, ADT Security Services has filed a trademark infringement against 'Ring'—a home security system competitor that is wholly owned by Amazon. In its legal claim, the Palm Beach County based firm alleges that Amazon's company improperly infringed upon its "blue octagon" trademark. Here, our Florida trademark & copyright infringement attorneys provide an overview of the lawsuit.
The Background: Two Corporate Logos in the Same Industry 
With more than 18,000 total employees, ADT Security Services is one of the largest companies in the industry. Its headquarters are in Boca Raton, Florida. The logo used by ADT Security Services is a blue octagon. In the center of the octagon are the letters 'ADT', in white font. ADT has obtained federal trademark protection for this logo.
Ring is a relatively new, but fast-growing player in the home security system space. Recently, Ring was purchased by Amazon. It is now a wholly owned subsidiary of the multinational corporation. Notably, the company gives its customers a small sign noting that their home is protected. The sign is a blue, white, and grey octagon, with the letters 'ring' in the center.
Allegations: Blue Octagon Mark is Trademark Protected and the Ring Branding is Too Similar
ADT filed a trademark lawsuit against Ring in a federal court in Delaware. In its trademark infringement claim, the Florida-based company argues that Ring's branding is confusingly similar to the point that it violates their trademark rights. Additionally, ADT contends that Ring is "seeking to tout a reputation for trust to potential customers that it has not earned." Bloomberg reports that representatives for both Amazon and Ring declined to offer public comment on the matter. 
The Standard for Trademark Infringement 
In order to bring a successful trademark infringement lawsuit, a plaintiff must prove a number of different things. First, the plaintiff must prove that it is entitled to trademark protection. As ADT Security Services has a long-standing trademark registration, that element is unlikely to be a significant factor in this dispute.
Beyond that, a trademark plaintiff must also establish that the defendant's logo would be "likely to cause consumer confusion as to the source or origin of goods." Should this case go to trial, it will be up to the federal court to determine if the two logos with similar shapes (octagon) and similar but not identical color schemes (blue and white vs. blue, white, and grey) are likely to cause confusion in the minds of an ordinary consumer.
Contact Our Boca Raton, FL Trademark Infringement Lawyers for Legal Help 
At Perkins Law, our Florida trademark attorneys have the skills and IP law expertise to handle the full range of infringement claims. If you have questions about trademark infringement, we have answers. To arrange a fully private assessment and evaluation of your case, please contact our firm right away. We are proud to provide intellectual property law services throughout Palm Beach County, including in Boca Raton, West Palm Beach, Jupiter, and Wellington.
Source:
bloomberg.com/news/articles/2021-04-27/adt-sues-amazon-s-ring-over-brazen-copies-of-blue-octagon-sign