Being Sued For Trademark Infringement? Four Mistakes To Avoid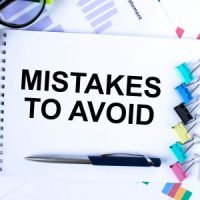 A trademark is one of the most important types of intellectual property. As described by the United States Patent and Trademark Office (USPTO), a trademark holder has the right to bring an infringement claim against a party engaged in "unauthorized use" of a protected service mark in a manner that is "likely to cause confusion" amongst reasonable consumers.
If you or your company is facing a lawsuit for trademark infringement, it is crucial that you know how to protect yourself. In all too many cases, defendants in trademark infringement claims make errors. Here, our Florida trademark litigation attorney highlights four common mistakes that you should avoid if you or your business is being sued for trademark infringement in Florida.
Mistake #1: Ignoring the Trademark Infringement Lawsuit 
Ignoring a trademark infringement lawsuit—or any other type of commercial lawsuit—is invariably a major mistake. If you have been sent a demand letter, it generally means that the other party is considering/intending to file a legal claim. You should be prepared to proactively respond to a demand letter. If you were served with a notice of a trademark infringement lawsuit, it means that the claim was already filed. Ignoring the lawsuit could result in a default judgment against you or your business.
 Mistake #2: Going it Alone (Professional Representation is a Must) 
Trademark infringement claims are complicated. You do not have to figure out the process alone. If you or your company is already facing a trademark infringement lawsuit, it is crucial that you consult with an experienced Florida trademark litigation attorney. A skilled lawyer will be able to review the specific allegations and help you determine the best course of action.
 Mistake #3: Angrily or Directly Confronting the Plaintiff 
Once a trademark infringement lawsuit is filed, a defendant should avoid any direct confrontation with the plaintiff. At this point, the dispute should be addressed through the proper formal legal channels. A response—either inside or outside of court—should be drafted and/or reviewed by a lawyer.
 Mistake #4: Refusing to Consider Settlement Options 
In defending a trademark infringement lawsuit, it is important to consider all available options for resolving the matter. While settlement is not the best path forward in every case, it is always an option that should be carefully evaluated. In some circumstances, an agreement to avoid future use of a certain service mark may be sufficient to resolve the legal dispute.
Set Up a Fully Confidential Consultation With Our Boca Raton Trademark Litigation Attorney 
At Perkins Law, our trademark litigation lawyer has the professional skills and legal expertise to defend individuals and businesses who are facing a lawsuit. If you are being sued, we are more than ready to help. Contact us by phone or contact us online to set up your private appointment. With an office in Boca Raton, we provide trademark infringement representation to clients in Palm Beach County and throughout the entirety of South Florida.
Source:
uspto.gov/page/about-trademark-infringement