FTC Proposes Nationwide Ban On Non-Compete Agreements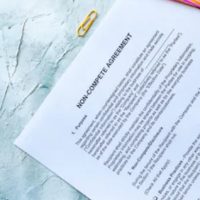 In January of 2023, the Federal Trade Commission (FTC) announced a proposed rule to ban non-compete agreements. If enacted the rule would create a broad, nationwide restriction on the use of employee non-compete agreements. These types of contracts are currently lawful in Florida—as long as they meet certain criteria. Here, our Florida employment agreement attorney provides a comprehensive overview of the FTC's proposed ban on non-compete contacts.
Non-Compete Agreements: Defined 
Non-compete agreements are contracts signed between an employer and an employee, whereby the latter agrees to not work for a competitor for a certain period of time after leaving the company. They are largely designed to protect an employer's intellectual property, trade secrets, and other confidential information. Non-compete agreements are common in industries where employees have access to sensitive information or play a critical role in a company's success. That being said, the enforceability of these agreements varies by state and jurisdiction.
 Current Law (June 2023): Non-Compete Agreements are Enforceable in Florida 
Non-compete agreements are enforceable in Florida, but they must meet certain standards to be valid. To be enforceable, the agreement must be in writing, signed by the employee, and include a legitimate business interest to be protected. The agreement must also be reasonable in terms of duration, geographic scope, and the nature of the restricted activity. There are some states—most notably California—where employee non-competes are already heavily restricted.
What You Need to Know About the FTC's Proposed Ban on Non-Compete Agreements 
In January 2023, the FTC rolled out a broad proposal to restrict the use of employee non-compete agreements nationwide. To be clear, this is currently a proposed regulation. No final rule is currently in place. The FTC must go through the full federal rulemaking process. That being said, the proposed bar on non-compete agreements would do the following:
Prohibit most non-compete agreements nationwide;
Require employers to rescind active non-competes as of a yet undetermined date; and
Mandate that employers proactively notify current and former employees that non-competes are no longer in effect.
As currently drafted, the rule would not have any direct impact on non-solicitation agreements or confidentiality agreements. The scope of the proposed regulation is comprehensive—it would also apply to independent contractors. Further, the rule, if enacted in its current form, would supersede state regulations in favor of non-competes, including Florida law.
 Many Legal Challenges are Expected 
The FTC's proposed ban on non-competes is still a long way from becoming federal law. There have been questions raised about the federal agency's authority to make such a rule. Several business groups have indicated their intent to take legal action to stop the implementation of the proposed regulation if it proceeds in its current form. It is unlikely that this matter will be resolved in 2023.
 Get Help from a Non-Compete Agreement Attorney in South Florida
At Perkins Law, our Florida non-compete agreement lawyers are standing by, ready to protect your rights and your interests. If you have any questions about non-compete agreements, we are here as a legal resource. Contact us today for a confidential, no obligation consultation. We handle non-compete agreement matters in Boca Raton, Palm Beach County, and throughout South Florida.
Source:
ftc.gov/news-events/news/press-releases/2023/01/ftc-proposes-rule-ban-noncompete-clauses-which-hurt-workers-harm-competition