Six Tips For Writing A Cease-And-Desist Letter In An Intellectual Property Case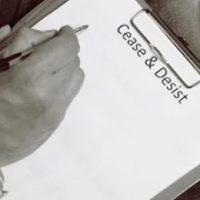 Intellectual property (IP) rights matters. A violation of your company's patent, trademark, or copyright can cause tangible and intangible financial harm. Legal action may be required—but that does not mean that you must respond to every violation with a lawsuit. A professionally drafted cease-and-desist letter is often the most cost effective, efficient way to get results. In this blog post, our Florida cease-and-desist letter attorney highlights six tips for crafting a cease-and-desist letter in an intellectual property case.
Know the Purpose of a Cease-and-Desist Letter
As a starting point, it is crucial to understand the purpose of a cease-and-desist letter. Black's Law Dictionary defines a cease-and-desist letter as a clear statement that an offending party should "immediately stop any further violation" of your rights. In effect, a cease-and-desist letter exists to achieve two goals at once:
Officially notify another party that they are violating your rights; and
Move the matter towards a resolution—either through settlement or litigation.
Clearly Explain the Scope and Nature of the IP Violation 
In crafting a cease-and-desist letter in an intellectual property case, it is imperative that you carefully explain the nature of the defendant's violative conduct and why the conduct in question amounts to an infringement upon your legal rights. The party that receives that cease-and-desist letter should come away understanding that they are violating your rights. 
Request Specific Action 
All cease-and-desist letters in intellectual property cases must make a clear and specific request for action. In general, this means a straightforward demand to stop any further infringement. Beyond that, it may also be a request for the payment of some form of financial compensation to remedy the infringement that has already occurred. 
Include a Deadline for a Response 
Within an IP cease-and-desist letter, it is generally recommended that you include a reasonable deadline for a response. The deadline should be soon enough to prompt immediate action by the potential defendant, but it should also give them a reasonable opportunity to come to the table. 
Be Concise: Do Not Include Unnecessary Information 
A cease-and-desist letter should also be clear and concise. You do not want to include any unnecessary information. While you need a detailed explanation as to  the extent of the IP violation, that explanation should be straightforward and to the point. Unnecessary details not only make it harder for the recipient to understand and respond, but it could also undermine your legal case. 
Get Professional Guidance and Support 
Cease-and-desist letters are complicated. They should always be drafted with guidance from an experienced intellectual property attorney. A Florida IP lawyer will make sure that your cease-and-desist letter is drafted in a manner that best protects your rights and interests.
Schedule a Confidential Consultation with Our Boca Raton, FL Intellectual Property Lawyer
At Perkins Law, we handle the full spectrum of intellectual property cases, including trademark law, copyright law, and patent law. If you have any specific questions about cease-and-desist letters, we are more than happy to help. Contact our law firm today for your confidential case review. Our IP lawyer serves communities throughout South Florida, including  Palm Beach County.